Karachi: MG Motors Pakistan has organized a test drive of MG's modern electric vehicle MGZS in Karachi.
A large number of citizens along with their families enjoyed the drive of the SUV with attractive design and modern technology. The test drive was arranged on the track of Omni Karting Circuit, PAF Colony Korangi Creek.
Citizens who enjoyed the test diver of the electric vehicle said that it is a unique vehicle in terms of design, performance and is more suitable in terms of price which is a unique increase in the choice of vehicles in Pakistan.
Talking to the media on the occasion, Syed Asif Ahmed, GM Marketing and Sales, MGK, said that GM Motors has revolutionized the auto industry of Pakistan, with its fully electric MGZS it is unique and unparalleled in terms of design, luxury, performance.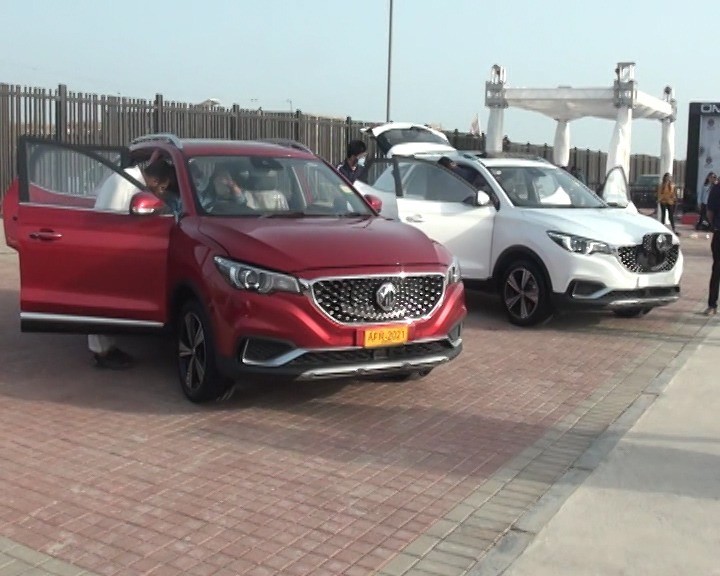 No other car in Pakistan can compete with it in terms of safety. Two airbags are standard in Pakistani markets but MGZS is equipped with technology has six airbags.
He said that MG has a history of 100 years and this globally popular brand has revolutionized the auto sector of Pakistan. Without experiencing the pleasure of driving it, consumers cannot make up their minds about buying one.
For this purpose, after Lahore and Islamabad, a test driver was organized in Karachi in which more than 100 people have participated with their families every day to test driver's performance luxury and pleasure.
Expressing satisfaction over this, he termed MGZS as the most advanced vehicle available in Pakistan in terms of innovation and quality.
He said that electric vehicles are leading the revolution in the auto sector all over the world and in this regard MG Motors is also honored to have introduced an eco-friendly vehicle in Pakistan that meets the needs of consumers, modern life, and required styling of the modern era.
Other features of the MGZS include the panoramic sunroof, which covers 90% of the vehicle's roof and allows passengers to feel them flying through the sky.
Safety features include an electronics security program, tire pressure the monitoring system, reverse parking sensors, while driver-assisted pilot safety suits include rear traffic monitoring, lane cap assistance, automatic emergency braking, blind spot identification, including advanced features such as lamp control and intelligence acid limit assistance.