Quinton de Kock is ensnared in scandal after a sneaky bit of deceit ended one of the best one-day international knocks in history on Sunday.
Pakistan lost the second One-Day International against South Africa by 17 runs at The Wanderers, behind Fakhar Zaman's brilliant 193.
However, in helping South Africa tie the series 1-1, de Kock stirred controversy by dismissing Fakhar.
His brilliant innings finished with an odd run out because he was duped into believing the ball wasn't going to his end.
Law 41.5.1 states: "It is unfair for any fielder wilfully to attempt, by word or action, to distract, deceive or obstruct either batsman after the striker has received the ball"#MCCLawspic.twitter.com/gUXoBM9ZJ5

— Marylebone Cricket Club (@MCCOfficial) April 4, 2021
As Fakhar returned to the striker's end for a second try, wicketkeeper de Kock gestured to the non-end, the striker's as if the ball was heading there.
Fakhar took it easy and began jogging into the crease, only to see the ball reach the stumps at his end, leaving him short of the ground.
Zaman took Responsibility
Fakhar Zaman did not blame de Kock and admitted that his fault. He said, "the fault was mine as I was too busy looking out for Haris Rauf at the other end as I felt he'd started off a little late from his crease, so I thought he was in trouble."
continued he, "the rest is up to the match referee, but I don't think it's Quinton's fault."
However, South Africa captain Temba Bavuma seemed to indicate that wicketkeeper Quinton de Kock's gesticulating, which appeared to confuse Zaman, was a calculated act, after all, calling it "very clever."
The conciliatory comments may help to relieve some of the pressure on the umpires, who seemed to see nothing wrong with de Kock's conduct.
Legality
However, the legality of the dismissal was called into question because de Kock was throwing his arms about, perhaps meaning that Markram's throw was heading to the non-end striker's. He may have been trying to explain something to his teammates as well.
Zaman eventually slowed down and even turned around to look at the non-end, the striker's but he was left short.
Shoaib Akhtar's reaction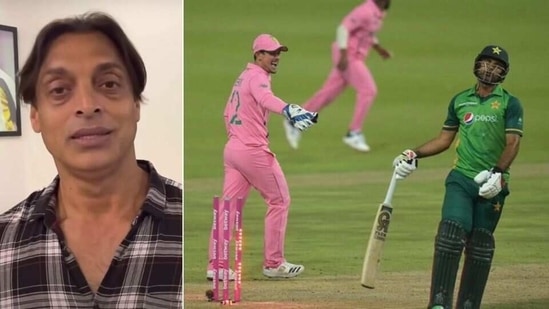 Shoaib Akhtar is dissatisfied with De Kock and slams the match referee for Fakhar Zaman's dismissal. He said that "The spirit of the game was hurt."
After being run-out against South Africa in the second ODI in Johannesburg on Sunday night, Pakistan opener Fakhar Zaman lost out on his second ODI double-century.
Aiden Markram's direct strike from long-off caught him out of his crease, and he was dismissed on 193. As a result, while chasing a 342-run mark, Babar Azam & Co were defeated by 17 runs.
Former Pakistan pace legend Shoaib Akhtar termed De Kock's action against the "good spirit of the game" in a recent video on his YouTube video.
This incident provoked outrage and drew criticism from Proteas wicketkeeper Quinton de Kock, who seemed to indicate that Markram's throw could be heading to the non-end. striker's.
When Zaman saw this motion, he slowed down, thinking the throw could not come from his end, but Markram caught him off guard.